Homes for sale in Vista Cay Resort Orlando Florida – Condos & Townhomes
Vista Cay Resort is a luxury community of Townhomes and condos in Orlando Florida located just off Universal Blvd in Orlando FL. What makes Vista Cay Unique is it is currently the only community in Orlando / Orange County that allows short-term rentals. In addition, Vista Cay is the closest vacation home community to Universal Studios and Seaworld. Vista Cay is also located next door to the Orange County Convention Center (the second largest in the USA) and across the street from the new Epic Universe theme park scheduled to open in the summer of 2025 (A massive Universal Theme park).
Properties for sale in Vista Cay Resort Orlando
Due to the unique location buying or selling a home in Vista Cay is a popular decision given its proximity and limited competition. The idea of owning a vacation home has become a popular idea in the last decade as you can use the home part of the year and rent it out the rest if you desire. When looking at Vista Cay homes for sale it can be intimidating where to start so contact us first.
Search for homes, condos & townhomes for sale in Vista Cay Orlando
Vista Cay is the closest vacation home community to Universal Studios
Vista Cay is located just 4.6 miles from the current Universal theme parks, but did you know Vista Cay is within walking distance of the new massive Universal theme Park (Epic Universe) scheduled to open summer of 2025, making it the only vacation home community in the world that is within walking distance to a major theme park.
Limited competition for short-term rentals.
Unlike the vacation homes located off the extremely congested and limited appeal of HWY 192 in Kissimmee or HWY 27 in Davenport (both South of Disney where there are literally 10s of thousands of vacation homes) Vista Cay is the only vacation home community in Orlando / Orange County and benefits from being just off the world-famous International Drive with substantial and well-maintained infrastructure. There are numerous restaurants from fast food to high-end gourmet not to mention attractions such as Point Orlando, The Orlando Eye, Icon Park and shopping all within a mile of Vista Cay.
Buying a Vacation Home in Vista Cay, Orlando
Set Your Budget
We recommend you speak to your accountant and financial advisor and determine a budget. Homes for the most part in Vista Cay are sold in cash so if you are planning on financing check with your lender on non-warrantable loans as Vista Cay will typically fall into this category.
Will this be a true second home or will it be used as a short-term or long-term rental?
Decide on property type, size, premium features, and location within the community
The condos in Vista Cay range in size from 1100 square feet to 2100 Square feet (approx). There are two predominant home types: condos (on a single level and can be on floors one through 4 and townhomes which are 3 levels with a garage.
The condos all offer free open parking in front of each building. Vista Cay is composed of two sections, Vista Cay the main section, and Vista Cay Reserve (located behind the Publix grocery store). See our video tour for more information. The townhomes all have a one-car garage with a 1 car driveway and extra parking if needed at the end of each block.
Premium features at Vista Cay Resort include lakefront/lake view, size, and proximity to the clubhouse, number of upgrades (remodeling), and interior or exterior corridor buildings.
Hire a real estate agent and property Manager who are experts with vacation homes specifically in Vista Cay
There are many real estate agents in Florida, but you need to be selective in finding one who is an expert in vacation homes specifically in Vista Cay and the local area with a long and documented track record. Having an agent who is an expert in this specific area can save significant time and money and offer expert guidance with years of experience.
Vacation homes are a niche market and the Realtor and property manager you choose should specialize in this area specifically and know the International Drive and Universal area extensively.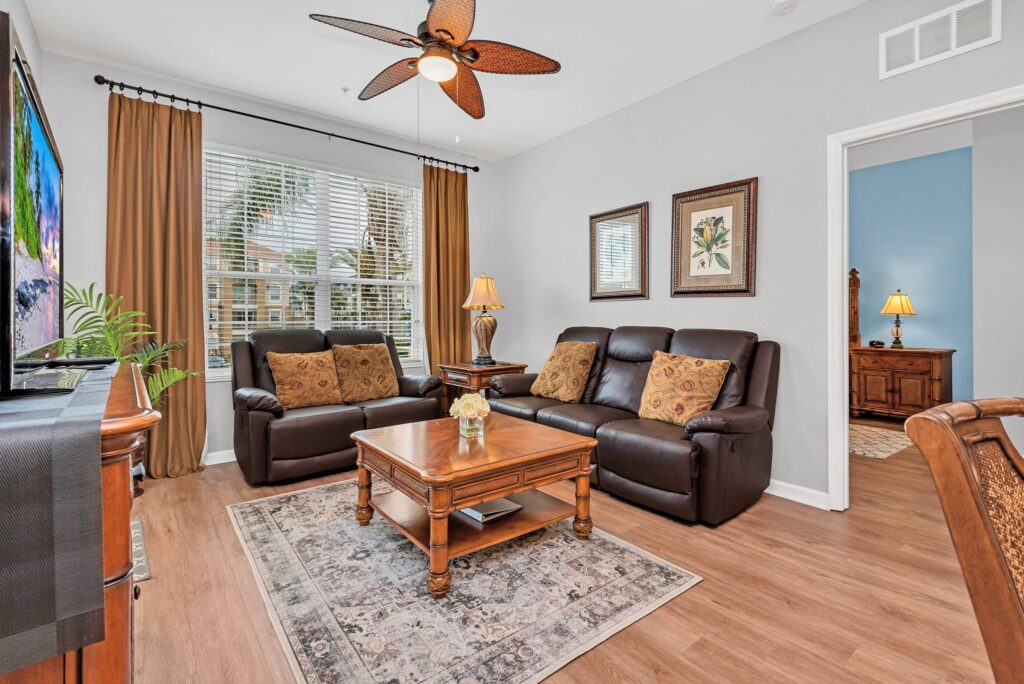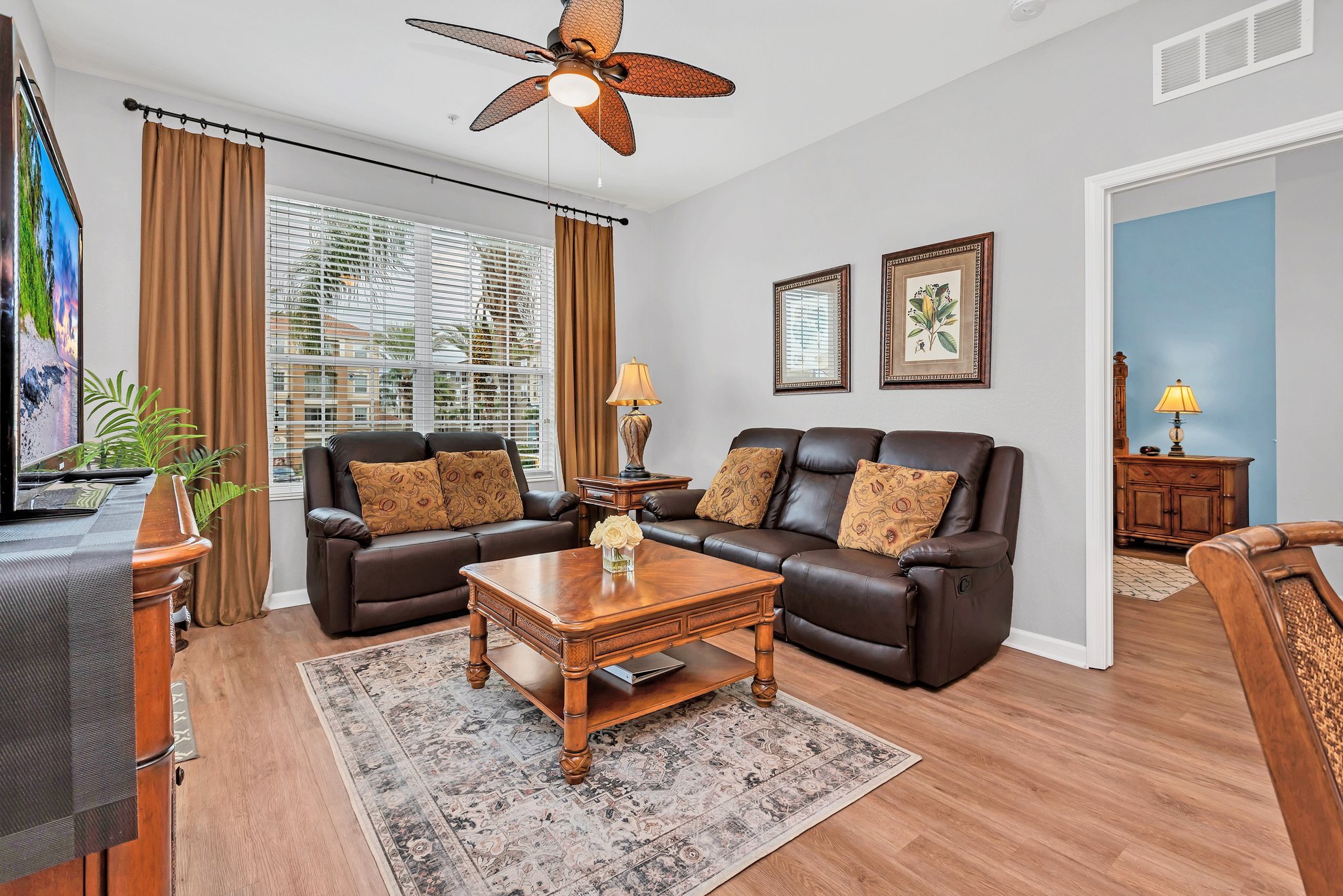 Other professionals we recommend you use are a local real estate attorney to review all documents, an accountant who is knowledgeable in vacation homes and short-term rentals, and an insurance company that also specializes in vacation home property. If you need referrals please let us know.
Begin the search and start reviewing the properties
After extensive discussion with your agent, you can determine what type of home to buy in terms of size and features. If buying an older unit and planning to update it, your agent should know contractors who specialize in updating Vista CAy units as they can offer additional guidance if needed. Again, if you need referrals let us know.
The agent can send you what homes in Vista Cay are available for sale send you daily updates as more become available and advise you of any changing market conditions.
Begin to make offers
As you become familiar with the home type you like and what price to expect you can begin to make offers with your agent.
Have your offer accepted and close.
Having made your offers and negotiated a final price you can get your offer accepted and close. As always we always recommend using professionals to assist such as a home inspector, appraiser, attorney, accountant, property manager, and financial advisor.
Selling a Vacation Home in Vista Cay, Orlando
What is your home worth?
We recommend getting an appraisal of your condo or townhome before consulting with a Realtor to get an idea of what the fair market value of your home is. Then you can reach out to a Rector who we recommend is a vacation home specialist specifically in Vista Cay with a track record of buying and selling vacation homes in the community.
Prepare your home for sale.
We recommend your home is staged professionally, chances are if this is a vacation home it is already prepared for showings as it will be prepared for gusts.
Next, we recommend using a professional photographer because in the age of the internet top of the range photography and even virtual tours are essential especially when most buyers in Vista Cay are out of the state and often out of the country.
Next, you want to prepare a list and go over with your agent the unique selling features of your home. Common items in Vista Cay might be the ground floor, penthouse, lake view, next to the clubhouse, etc.
Get the property listed.
After you have done your market research, got the photography done, had the Realtor write up an accurate and highly detailed description, and have the agent list the home for sale. The most powerful tool the agent has is the Mid Florida MLS and they make sure their office is marketing on social media.
Allow the offers to come in and get professional help in sorting through them and analyzing
As offers come in, have your Reltor advise you which offers are credible and have the ability to close as well as gauge opinion on how the property is performing in terms of attracting offers. You may have to adjust the property from time to time to ensure the property remains attractive to potential buyers.
Select the best offer, negotiate as needed, and close
After analyzing offers and selecting the best one counteroffer / negotiate if needed, get an agreement signed and drawn up and go through the closing process.
Floor Plans (Click to Enlarge)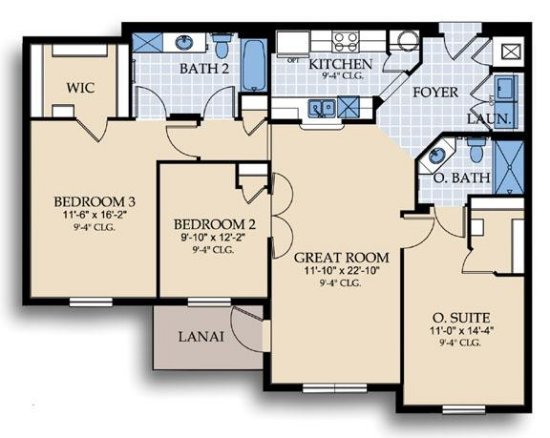 Conclusion:
Buying or selling a vacation home in Vista Cay in Orlando is a relatively straightforward process and the use of the right professionals is a relatively simple process.
Hiring people who are not extensively familiar with Vista Cay or the short-term rental market around specifically the international drive area can be costly both in time and cost as this market and type of vacation home product is very different to a conventional home sale or the more saturated vacation home market south of Disney.
However, like any significant purchase, you must hire the right professionals such as Realtors, accountant, real estate attorney, property manager, and insurance agent each of who are very experienced in dealing with vacation homes and short-term rentals in the International Drive area as outlined to walk you through every step of the process.