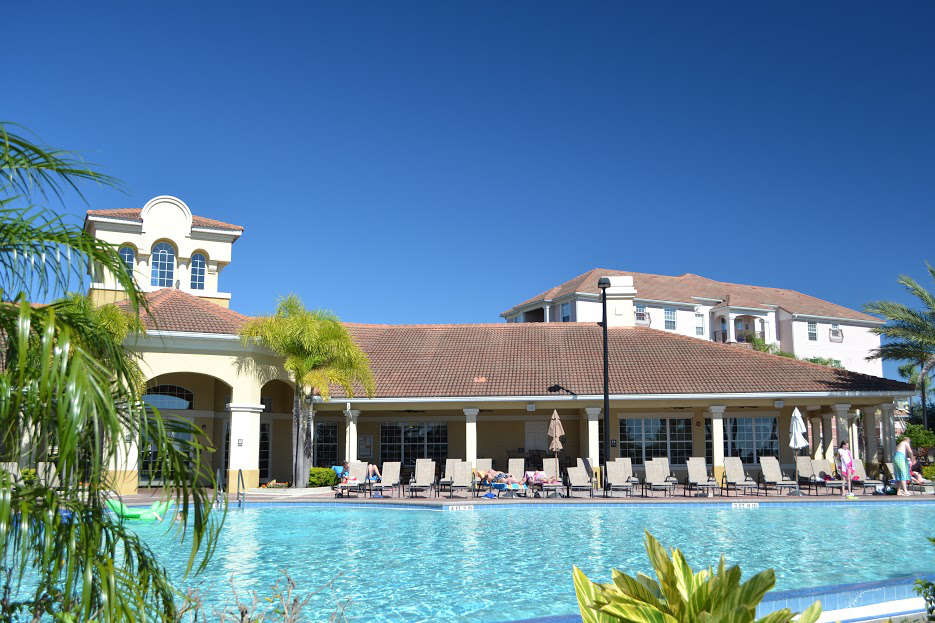 Vista Cay Resort Amenities
What amenities does Vista Cay Resort have?
There are numerous amenities in Vista Cay Resort. Vista Cay has all the amenities you would expect in a resort setting in Orlando. As a condo community, Vista Cay is the only vacation home resort-style amenity community in Orlando and is the closest vacation rental community to Universal Studios, Seaworld, and the convention center.  For reservations in Vista Cay Resort check out our reservations page or use the calendars above.
What are some of the property amenities at Vista Cay? Vista Cay Amenities include:
Clubhouse Amenities
There is a large clubhouse at Vista Cay which includes the following amenities. All amenities are free to guests staying at the property. 
Community pools – There is a large master pool, Kiddie pool, and spa. There is also a second pool and spa in the section of Vista Cay often referred to as Cay Commons.
Gym – There is a gym in the main clubhouse at vista cay for current hours just stop by the front desk at the clubhouse.
Playground – This is a child's playground close to the main clubhouse.
BBQs – There is also a BBQ area with picnic tables close to the main clubhouse and also in the Vista Cay Commons section.
Walking trail – There is a long walking trail around the lake at Vista Cay behind the main clubhouse.
Pool Bar – The is a pool bar at the main pool serving drinks and bar food during the day into the late afternoon.
Hot tub – There are two spa hot tubs.
Gift shop – In the man clubhouse there is a gift shop where you can buy last-minute items
Concierge – In the lobby, there is a concierge where you can buy attraction tickets and get local information.
Community Amenities at Vista Cay Resort
Gated – Vista Cay Orlando is a gated community. You also park at the clubhouse (limited parking) which is not gated.
Elevators – Each building at Vista Cay is four stories and there are two elevators per building as well as stairwells at either end.
Garbage Pick-Up – Vista Cay has daily garbage pickup as an added amenity for the community. This is done using the container outside your front door. 
Parking – Parking at Vista Cay is free and you most often can park directly in front of your building.
Security – Vista Cay has on-site security in the afternoon and at night patrolling the property.
Lake – There is alike a Vista Cay which makes for some great sunsets. 
Which room amenities are available at Vista Cay?
Each home at Vista Cay is privately owned so individual home amenities may vary slightly, but with all our homes we offer the following:
3 bedrooms – Most of our homes in Vista Cay have three bedrooms often with a King bedroom, Queen Bedroom, and a third bedroom with two twin beds or two full beds
2 bathrooms – All our homes in Vista Cay have two bathrooms with a master adjoining the master bedroom and a 2nd bathroom
Fully equipped kitchens – All kitchens are fully equipped with everything you find in a typical home kitchen including appliances
Washer and dryer 

– All our homes in Vista Cay have a washer and dryer

All linens and towels provided – We often get asked if all linens and towels are provided the answer is yes they are.
Cable TV in every bedroom room / Living Room – We have cable TV in all bedrooms as well as the living room.
Internet – All our homes are fully equipped with free high-speed internet.
Air Conditioning – All our homes are air-conditioned and have self-controlled AC so you can set the AC as needed during your stay.
Some garages – Our townhomes in Vista Cay have one-car garages and one-car driveways. Additional parking is often on the street at the end of the townhome buildings. 
Free parking – All homes in Vista Cay have Free parking which is an amenity that separates it from many resort-style complexes.
Linens and Towels – All units in Vista Cay Resort come with full sets of linens and towels
Soaps – All of Our Vista Cay Rentals come with starter kits of soaps and shampoo as well as paper products. 
Community Area Amenities at Vista Cay:
Grocery Store – One of the best amenities Vista Cay offers is that it is within walking distance of a major well-stocked grocery store Publix. In this grocery store, you can buy not just groceries but many other items such as household supplies.
Pharmacy – Walgreens pharmacy is located at the entrance to Vista Cay and can help with all medical supply needs, groceries, and daily needs items during your stay. This is another great amenity as it is within walking distance. 
Restaurants: In the Publix shopping Plaza there are several restaurants that are all highly rated including a Chinese restaurant, Pizzeria, and an artisan diner.
Golf: Across the street from Vista Cay Resort is the Shingle Creek golf course and although the walking distance from Vista Cay you may want to consider it a short Uber ride in the hot summer.
A summary of Vista Cay Resort.
If you are looking for a vacation home community in Orlando with full resort-style amenities Vista Cay Resort is the only community of its kind in the area. All other vacation home communities are otherwise much further south of Orlando in Kissimmee and not as conveniently located if you are wishing to visit SeaWorld, Universal, the Airport, or Convention Center (which is next door). Also, be sure to check out our Vista Cay area guide. 
A key feature of the location at Vista Cay is all major attractions are just a short Uber ride away and you are located just off international drive.
Also, some of the larger conventions do put on shuttle buses that pick up from the Vista Cay main clubhouse (check with your convention organizer).
Vista Cay Orlando is an amenity-rich resort-style property with all the comforts of home. In addition to many amenities you would find in a hotel, you have the benefit of all the amenities you would typically have in your own homes such as being able to cook meals and use your own washer and dryer.
If you are looking for an amenity-rich resort Vista Cay Orlando offers a lot of features.